Vitaly Lunkin Chipleader going into day 4 of $50K Horse Event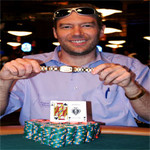 For our Swedish poker readers out there we are happy to tell you that Erik Sagstrom is through to day 4 of the WSOP Event #49 which is the $50K buy in H.O.R.S.E Event. Erik has $1.3 Million in chip going in to day 4 which gives him a second place on the leaderboard.
The current chip leader of the tournament is Vitaly Lunkin from Russia with $1.5 Million in chips. Other players who are still very much in the game are Ville Wahlbeck from Finland and Full Tilt Poker pro Gus Hansen from Denmark.
This year the $50K H.O.R.S.E Event hit an all time low in terms of participants with only 95 players signing up for the event. Some players say that the reason for this is the fact that ESPN decided not to show the event on television this year while others blame the economy.
Out of the original 95 players only 19 are remaining at the start of day 4 and 16 out of these players will make it in to the money which will guarantee a $72.914 pay day.
Thw winner of this tournament will take a bracelet and a cool $1.276.802 for the first prize.
These are the standings at the start of day 4:
Vitaly Lunkin 1,527,000
Erik Sagstrom 1,315,000
Freddy Deeb 1,300,000
David Bach 1,265,000
Ville Wahlbeck 842,000
John Hanson 815,000
Gus Hansen 801,000
Mike Wattel 779,000
John Kabbaj 678,000
Huck Seed 672,000
Brett Richey 671,000
Tony G 650,000
Chau Giang 616,000
Steve Billirakis 576,000
Frank Kassela 499,000
Erik Seidel 464,000
David Chiu 397,000
Ray Dehkharghani 262,000
Todd Brunson 145,000
Comments