Tom Dwan Loses $900K in one session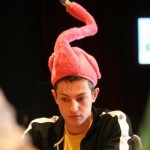 Tom "durrrr" Dwan is one of the players who are playing at the highest stakes available on the internet. So far he has been very successful doing this but on Thursday he ended up in the red after a very bad session.
Just a couple of days ago Tom Dwan was winning most of the sessions against Patrik Antonius and he almost managed to get back to even in the "Durrrr Challenge". But outside the challenge it has been hard times for Dwan at the tables. Last Thursday he had a very bad session and ended up losing $900.000 for the day after having played just 1071 hands.
At the same time the Swedish high stakes player DIN_FRU a very strange session where he played only 3 hands and lost $500.
Gus Hansen who has been running bad since forever continued to lose money and he finished the day $178.000 in the red after only 125 hands played.
A player who was more fortunate on the other hand was Ilari "Ziigmund" Sahamies who managed to win $443.000. It might have been the day of the Finnish players as we can also report that Patrik Antonius ended up with a healthy profit.
If you want to watch these players battle it out on the highest stakes in online poker every day then we suggest you create an account at Full Tilt Poker using the FullTilt referral code TILTEDBONUS which will give you access to watch all of these games for free.
Comments