Play against Daniel Negreanu for a Million Dollars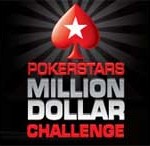 Here is the chance for all of you who have been looking for a chance to play heads up against Daniel Negreanu for big money. In a new TV program there will be a chance for one lucky player to take on Daniel Negreanu heads up for a $1 million pay day, without risking any of your own money.
A while back Online Poker News were one of the first to reveal the new TV show "Face the Ace" that is hosted by Full Tilt Poker and now we can also reveal a new similar TV show but with online poker giant PokerStars.com as the host.
In the TV show "PokerStars Million Dollar Challenge" one player will have the opportunity play heads up against Daniel Negreanu for a $1 million first prize, just like in Face the Ace.
The road to the heads up match against Negranu is very long though.
First you will have to finish in the top 10 in one of the freerolls that are run at PokerStars every day. If you are one of the top 10 finishers you will get to send in a presentational video to FOX and PokerStars. From all of these videos PokerStars will pick out a couple of players who will get to play against other PokerStars professionals and celebrities heads up. If you succeed in those heads up matches your chances of playing against Daniel Negreanu for the million dollar.
As you can see the process of actually reaching the heads up match against Daniel Negranu is very long but should you manage to reach all the way it will be worth all the struggling.
If you do not yet have an account at PokerStars we suggest that you head over and create your account now to participate in these freerolls that are currently running. Use the PokerStars marketing code PSP11903 for a 100% bonus up to $600 when you make your first deposit.
Comments