New Member of The Brunson Team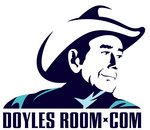 It has been announced that Dani "Ansky" Stern will be the newest member at Doyle's Room. Stern has proved to be a reliable winner when faced at the online poker tables and will now be the fifth member of The Brunson team. This team will grow to be a team of 10 elite poker professionals and thanks to Stern, they are already half-way there.
The 22-year-old star of popular poker television series and leading high-stakes online poker player is excited at joining this team and is poker legend Doyle Brunson. The latter commented; "I've seen Ansky play on TV, I've seen him play online, and I've seen him talk poker like someone who's been playing for decades. Dani "Anksy" Stern is the future of this game and I'm proud to have him on my team."
Stern has gained popularity with the G4 television series, 2 Months, 2 Million, a show that featured the poker pro and another three other online poker players trying to win $2 million playing online poker over a 2-month period whilst living the good life and poker pro lifestyle.
Dani Stern has been a consistent and strong well-respected poker player with real knowledge of the game. He has made a name for himself by playing and winning online, several cash games as well as live tournaments, making almost a $1 million in tournament winnings alone. Stern participated at the 2009 WSOP and won nearly $550,000 when finished in the second event of the series.
The other Brunson Team members at the moment are Alec Torelli, Amit Makhija, Zachary Clark and Chris Moorman, the latest online winning player from the UK. We look forward to know who the next 5 poker pros will be to join this team. Legend, Doyle Brunson makes it a point to select and choose the poker players himself to make sure that he gets the crème de la crème onboard.
These 10 members will be representing his DoylesRoom; the latest addition to the Cake Poker Network offering the best in poker promotions and fantastic games Texas Hold'em and more. These games are open to players from North America and world-wide who are all in for the high stakes online.
Comments