New Cake Poker Mobile Software Available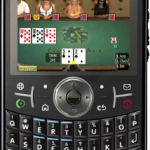 With an increasing demand for mobile gaming software, Cake Poker has answered the call of online poker players to have a mobile software platform. Cake has introduced a brand new mobile platform application that is fully-functional and completely user-friendly.
Cake Poker, the 10th busiest poker network on the Net, has released its full-service mobile software app for Windows Mobile operating system, permitting all Cake players to play real money online poker from anywhere that their cell phone can connect to the Internet. This move into the mobile realm is big for Cake, as their big competitors, PokerStars and Full Tilt Poker, have not yet taken the initiative to bring their poker platform to cellular users. Cake Poker Mobile is a unique and free app that can be downloaded from the Cake website, requiring only that Windows Mobile 5.0 be installed on your phone. Cake Poker features such as Gold Chips and Gold Cards operate in the same way as they do on your PC, and the mobile poker room requires no extra fees to play at and links directly to the player's Cake account.
Unfortunately, Apple iPhone users are not supported on the new Cake Poker mobile software, and there is no hope for an iPhone poker app in the future. The problem lies among restrictions on Flash application development put in place by Apple through their Safari Web browser.
Another online gambling site that has recently gotten on board with the mobile gaming trend is Bodog Poker, which has developed a full sports betting application for mobile clients. This application is compatible with the SmartPhone, the Blackberry, Motorola's Razr, and more. The Bodog mobile software features online slots, video poker, and blackjack, among other games. A Bodog mobile poker software application is in the works, as well.
Comments