Giancarlo Fisichella acts for PartyPoker in hometown Italy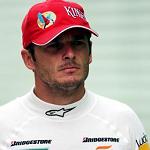 Party Poker have just entered into an agreement with Formula 1 Italian front man Giancarlo Fisichella. The latter will be representing Party Poker through Italy, together with PartyPoker's new "pro" poker team of players. This mixed team's goal is to further establish the game around the world.
Giancarlo Fisichella is not part of the poker pros, but known worldwide as one of the more famous Formula1 drivers. He drives under Ferrari's branch currently standing in for Felipe Massa after the accident he had earlier on this year.
Party Poker will be promoting their brand as number 1, most recognized online gaming company in the world. Given the way things work in Italy when it comes to poker legislations, Fisichella was the perfect fit to attract the Italian media and promote PartyPoker.
During the Sports Challenge IV filming back in June this year Giancarlo Fisichella had already represented Party Poker with the latter seeing potential in this business relationship. Fisichella is known for his friendly and sympathetic nature but also for his fearless attitude while racing at top gas and while playing poker tables.
Fisichella is not the first sportman who likes his poker game, such as former English national football striker Teddy Sheringham who won some poker tournaments and participated in the the World Series of Poker Europe and European Poker Tour London. This also goes for tennis star Boris Becker, Swede hockey star Mats Sundin, powerboat racer Sami Selio, Dutch Fatima Moreira de Melo and French rugby superstar Sebastien Chabal. All the above have been contracted through PartyPoker to represent their evergrowing brand.
With still many sports legends out there, one is to wonder who will get the next contract with Party Poker, PokerStars or FullTilt. All this sports with poker partnerships means more media coverage and exposure for the poker game with all the online operators reaping on the result.
Comments