Antonius Takes the Biggest Online Pot Ever from Full Tilt High-Stakes Mystery Player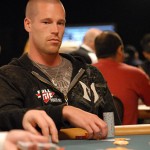 Last week the online poker community perked up when a new name was introduced in the otherwise elite and tight-knit online high-stakes poker "club" at Full Tilt Poker. Sweden's "Isildur1" is otherwise an unknown newcomer to hit the high-stakes tables at Full Tilt, taking more than $3 million from Tom "durrrr" Dwan in one week. Dwan, who is the newest Full Tilt Poker Pro, has taken heed and invited "Isildur1" to join him at a high-stakes poker match in Mayfair, London at the Les Ambassadeurs Club for next week's Million Dollar Challenge.
Dwan says of the mystery player, "We have had some tough games over the last few days and the action just keeps on coming. I hope he can make it to London for the challenge so we can play some high stakes live games as well."
Fast forward one week later and "Isildur1" appears again at Full Tilt's $500/$1000 heads-up deep PL Omaha tables; this time the mystery player is up against Patrik Antonius, another powerful player of high-stakes online poker. But "Isildur1" was no match for Antonius, as in the wee hours of the morning the biggest pot to ever go down in the history of online poker was taken by Antonius. A massive $878,958.50 pot was scooped out from under "Isildur1," which could technically be considered part of the money he took from Dwan over the past week.
So the saga continues, as the big shots of online poker swap millions of dollars back and forth day in and day out. It's usually Antonius, Dwan, Phil Ivey, and a handful of others, but now there's a new player in the ring, and he (or she) is sparking the attention of the online poker community.
Until early Tuesday morning, the largest online poker pot was from a hand involving Dwan and Di "Urindanger" Dang back in October of last year. The record stood for a little more than a year, but knowing Dwan, he will likely want to take that title back, as at times these guys seem to just be in it to outdo each other. For them, it's about more than the money.
It will be interesting to hear about the live matchup between Dwan and "Isildur1," as the mystery unfolds and more is learned about this stranger among us.
Comments