Ziigmund takes down huge pot against Durrrr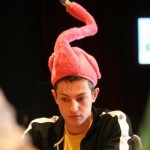 Over the last couple of weeks it has been Tom "durrrr" Dwan and Ilari "Ziigmund" Sahamies that have been the biggest attraction to watch at the high stakes tables at Full Tilt Poker. The two players have been playing a lot against eachother lately and they have been playing some really huge pots. They have mainly been playing at the Pot Limit Omaha tables which is where the biggest pots are usually played out. They are obviously playing at the highest possible stakes which is $500/$1000 but sometimes these blinds are too small for these players so they added a new stipulation which was a non optinal three bet pre flop which means the blinds end up being $3000/$9000. This new way of playing have obviously contributed towards the huge pots that they have played lately.
A couple of days ago when they were playing with this exact stipulations "Ziigmund" managed to take down a huge pot of $702.000. This pot is the second largest pot ever played at any online poker room. The only pot that is bigger is the $723.938 pot that was won by Urindanger when he played against durrrr.
Hopefully for durrrr he will soon be on the other side of these huge pots, it can't feel very good to have lost the 2 biggest pots ever played in online poker history.
Comments