Texas Dolly Wins $2 Million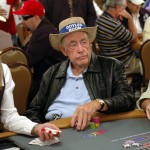 Doyle 'Texas Dolly' Brunson, now aged 74 is certainly not unknown for poker enthusiasts. Now, the talented online and land poker veteran has won again, this time against a bunch of younger poker professional players in the mixed games. This happened over the weekend at Bobby's Room at the Bellagio in Las Vegas.
Bobby's Room is originally named after Bobby Baldwin, world champion poker player himself and CEO of Mirage Resorts. This poker room has been the host of many exclusive poker games and mighty poker clashes. This time it was Texas Dolly's big win that made the news.
Brunson was not shy to talk about $2 million profit he made over the weekend. He left messages on his Internet blog, where he wrote that he had decided to hit the cash games instead of the World Poker Tour $25 000 Championship event this year. An unusual move from Brunson, this did turn out as a great success as only a full win in the WPT tournament would have equalled the profits from this cash game win.
This involved Brunson facing up against the fearsome international poker master Phil Ivey. This ended up being an amusing episode as Doyle chose the game to be played. Brunson proceeded with a six card Razz and won over Ivey, who is regarded as a very mature and experienced opponent.
At the end, "I've got some more games for him if he wants to continue!'' were Brunson's words!
Comments