PokerStars' 40th Billionth Hand Has Come and Gone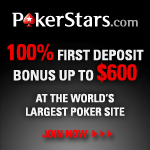 The long anticipated 40 billionth online poker hand, aka F40, at the number one online poker site materialized on Friday, February 19th at 12:43 p.m. ET on a $2/$4 No-Limit Hold 'em table. Player "Senecady" was the recipient of the 40 billionth winning hand prize which left him $24,000 richer. Also rewarded for their participation in the monumental hand was every other player dealt into the hand. For each VIP point awarded to each player on the previous 40 hands that took place at that table, $400 was paid out. Second place in the hand was "thecooler992," who ended up with $15,590.20.
Ultimately, Senecady won with a full house, the pot valuing $401. At the time, around 280,000 players were logged on and 41,000 tables were running, these numbers rising over the previous couple of days as the 40 billionth hand approached. While PokerStars hadn't seen 50,000 players between the dates of December 21st and January 30th, which could be due in part to the launch of rival poker site Full Tilt's Rush Poker. However, beginning January 31st through February 19th, more than 50,000 players logged on in only eight days, according to PokerScout, official stat keeper of pretty much all online poker activity. Also worthy of notable mention is that at the time the coveted hand finally broke through, there were 128 PokerStars users on the waiting list to play at the table, Naef III, where the hand was dealt.
The celebration culminated with a joint party for F40 and the 4th anniversary of the Sunday Million last Sunday. This was the biggest Sunday Million event ever to take place and featured a $4 million prize pool and $1 first place payout. Now that the fun's over at PokerStars, Full Tilt Poker is offering a Fast $50 Bonus to all players in celebration of the new Rush Poker.
Comments