Poker Legend Chip Reese' son Found Dead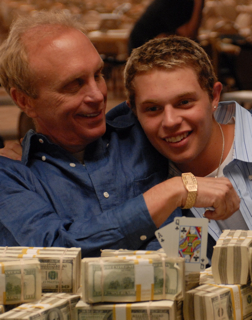 Poker legend Chip Reese had died in December 2007, due to severe pneumonia. He died at the age of 56 and is still regarded as one of the most versatile and skilled players to have ever lived. His achievements include winning the inaugural $50,000 H.O.R.S.E. event at the 2006 World Series of Poker. The tournament is now dedicated to his memory, and the winner of the event receives the Chip Reese Trophy.
Now, the shocking news was announced this week that his son Casey Reese, has passed away. Phil Hellmuth informed the poker community via his Twitter account and soon enough news reached some online blogs and poker forums that the twenty year old college student had passed away due to drug overdose.
Casey was a promising student and baseball talent. He had just been appointed a scholarship to the University of Nevada, Las Vegas and always excelled in school. There have been speculations about this overdose, with some saying it could have been an overdose of prescription drugs. The cause of death is still unknown and the toxicology reports are due in some weeks. Casey was found in his apartment on Monday at 17:15.
News soon spread amongst well known professional poker players as Doyle Brunson and Daniel Negreanu who were shocked, sad and even angry as they knew him well. Casey was in fact a highly regarded youngster. Rumour has it that he was having a very hard time dealing with the sudden passing of his father.
Comments