Phil Ivey Wins Sixth WSOP Bracelet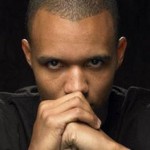 Yesterday evening it was time for the final table of Event #8 of the 2009 WSOP, which was a Deuce to Seven Draw Lowball No limit event. The poker superstar Phil Ivey was amongst the 7 remaining players that made it to the final table and still had a shot at the bracelet. At that time Ivey was in 6th place but still had a decent stack.
With $106.300 in chips he still had a decent chance to win the tournament and get his sixth WSOP Bracelet.
At the beginning of the final table things were not looking good for Phil Ivey as he quickly saw his stack shrink to $65.000 and he was in last place at that point. But just a couple of hands later the big rush came for Ivey and he won three straight hands against Raphael Zimmerman and turned his $65.000 to $400.000 and was now the chip leader at the table as well as the huge favourite to win the event.
After those three hands everything seemed to go Phil's way and after beating John Monnette in the final heads-up match he has secured his sixth WSOP title along with the $96.361 first price.
Phil Ivey is now one of the top 10 WSOP players through all times together with players like T.J Cloutier and Men "The Master" Nguyen.
But he still has a long way to go before he can reach the top of that list as Phil Hellmuth currently holds 11 WSOP Bracelets.
Comments