Joe Cada Wants Legal Online Poker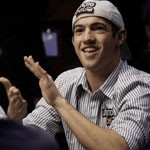 Joe Cada won the World Series of Poker Main Event this year and has been taking on the role as an ambassador for poker. It seems he is really taking this new role seriously and is putting a lot of work and effort in to making poker accepted in the US.
In the States there are always a lot of discussions about gambling on the internet and if it should be regulated or not. Should online gambling become regulated it will have a huge impact on online poker as well. Joe Cada is one of the people who are currently fighting for poker on the internet to be legalized.
Recently he went in front of congress and talked about why online poker should be legal.
In an interview with Time Magazine Joe Cada had the following to say:
I support the right to play online poker. Poker is not gambling. It is a hobby, an activity and a game. Poker is not about luck, it's about logic, decision making and math.
Comments