"Durrrr" Wins the Latest Session of the durrrr Challenge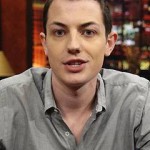 The famous durrrr Challenge is moving forward at a pretty slow pace. The last session was won by Tom "durrrr" Dwan. But if the challenge was to end today the winner would be Patrik Antonius by a very small margin.
The durrrr Challenge is a challenge created by Tom Dwan to the poker world (excluding Phil Galfond) that will last over 50.000 hands. Just a couple of weeks ago this challenge was basically dead as there were very few, if any sessions being played. But lately there has been a lot more action at Full Tilt Poker between Dwan and his first challenger Patrik Antonius.
Earlier in the challenge it was "durrrr" who had a safe and secure lead but after the last couple of sessions the tables have turned and Antonius is now in very small lead. The small lead got even smaller after Dwan won last nights session that lasted for 3 hours with 458 hands being played.
In last nights session durrrr managed to win $26K from Patrik Antonius who is still holding a tiny overall lead as mentioned earlier in this article. But you still have to keep in mind that less than half of the challenge has been played so there are still a lot of hot and cold streaks for both players to go through before the durrrr Poker Challenge is over.
Comments