Doyle Brunson Suggest a Hall of Shame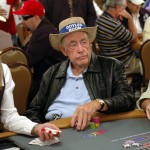 The Poker Hall of Fame is something that all poker players dream of being icluded in. But the poker legend Doyle Brunson have now suggested that a Poker Hall of Shame should be added.
In his blog over at DoylesRoom he suggests that the Poker Hall of Shame should be introduced and include players who abuse the dealers at the tables and their opponents in one way or another.
Doyles nominees for the Poker Hall of Shame are
Puggy Pearson
John "Doc" Holliday
Nick "Shoeshine" Simpson
"Nigger Nate" Lanette
Nick Vacchiano
Now we just have to wait and see if this will become reality one day or if it is just Doyle's way of telling the poker players to be a bit nicer at the tables.
Comments