2010 WSOP Satellites at Absolute Poker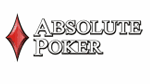 You can win your spot in the 2010 WSOP via Absolute Poker for as little as $0.10, and there are lots of ways to win. First, compete in the Daily Qualifiers that run daily and start at $10. Or, work your way through the Steps challenge that encompasses 10 steps, each costing you online $0.10, to win a $12,000 package. There are also 25 $12,000 WSOP seat packages guaranteed to be given out on June 6th at 4:00 p.m. ET. This tourney will cost you $530 to enter. If you miss those though, another 50 $12,000 packages will be given out on June 20th at 4:00 p.m. ET, also for a $530 buy-in.
That's not all, though. There's even more perks to qualifying through Absolute Poker. If you win your seat via Absolute Poker, you'll get $1,000 just for showing up at the event in Vegas this July. If you win more than one seat, you can rake in $12,000 cash for every addition WSOP package you win. If you win the most seats, you'll win an extra $5,000 in tournament dollars.
But there's more— if you get to the final table via an Absolute Poker qualifying package, you'll get up to $750K cash on top of any other winnings you incur from you final table finish. And the higher place you finish in, the more extra cash you'll get. Just qualify for your seat at Absolute Poker and represent the CEREUS Network and Absolute Poker at the WSOP to be eligible.
So far around 20 Absolute Poker players have already qualified for their WSOP seat. You could be next, so don't waste any time. Get your poker face on and head over to Absolute Poker now!
Remember to use the Absolute Poker referral code PBS500 as it will give you a 100% bonus up to $500 when making your first deposit, this is a great way to start your WSOP adventures at AbsolutePoker.com.