RedStar Poker

Red Star Poker Rakeback
Ever wanted to receive some of that money you pay from each pot back into your account? Well know, we at Online Poker News are giving you the opportunity to receive 33% of the rake you pay at Red Star Poker back into your account. All you have to do is enter the signup code REDBACK when prompted, to receive the rakeback. You will also be credited with a 110% deposit bonus when you make your first deposit on the site. The bonus has a maximum value of $600 and will be automatically added to your bonus account. We will now show you how to sign up at Red Star Poker to ensure you receive your 33% rakeback.
Signing up for Red Star Poker Rakeback
Please follow the following steps to ensure you receive your rakeback at Red Star Poker.
1. Please clear all cookies and temp files from your computer through your internet options. If you do not follow this process your account may not be applicable for rakeback. Once done, please follow this link and download the Red Star Poker client.
2. Once you have downloaded the client, you will be greeted with a page like below when registering with the site. Just enter REDBACK as below in the sign up code box.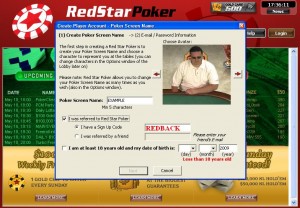 As long as you follow the above steps, you will be eligible to receive 33% rakeback at Red Star Poker.
Red Star Poker Deposit Bonus
As we mentioned above, you will also receive a 110% bonus on you first deposit. This has a maximum value of $600 and will be released into your account in increments of $10 as you earn 167 player points.
Payment of Rakeback
You rakeback will be paid into your player account automatically, so all you have to worry about is playing poker. The money is paid into your account on the 5th of each month, but Red Star Poker has a reputation of paying much earlier then expected.
If you have any questions about our rakeback deals please check out or rakeback FAQ section.