PokerStars Marketing and Bonus Code Explained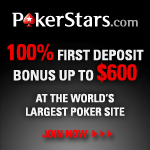 It seems like new players looking to sign up at PokerStars.com are a bit confused when it comes to getting the maximum bonus when making their first deposit. So we thought we would make this post to try to clear out all the terms related to the $600 PokerStars bonus.
PokerStars Marketing Code
When creating your account at PokerStars.com you will be asked to fill out a PokerStars marketing code. When filling out the marketing code PSP11903 you will make sure that you are going to be able to take part of the 100% bonus up to $600 that is currently offered at PokerStars.

PokerStars Bonus Code
The bonus code at PokerStars is different from the marketing code and it is supposed to be entered when you make your first deposit. The current PokerStars bonus code is STARS600 and it has to be entered in the bonus code field when you make your first deposit at PokerStars in order to get the 100% first deposit bonus credited to your account.
How does the Bonus at PokerStars work?
When you make your first deposit at PokerStars and enter the bonus code STARS600 you will automatically get a 100% bonus on the amount you deposit up to a maximum of $600. This bonus will instantly be added to your pending bonus account and can be seen under the tab called "Check my bonus status". The bonus is released in increments of $10 for every 170 VPPs that you earn by playing cash games or tournaments at PokerStars.
How to earn VPPs at PokerStars
As mentioned before you need to play at the real money tables at PokerStars in order to earn VPPs that will count towards clearing your bonus. When playing Sit and Go's or participating in tournaments at PokerStars you will be getting 5.5 VPPs for every $1 that you pay in tournament fees. If you enter a tournament with a $22 buy-in you will earn 11 VPPs from that tournament and there is no cap on the amount of VPPs you can earn from participating in a tournament.
When playing cash games it becomes a bit more complicated to calculate the VPPs that you are going to earn and the best thing is to check out the VPP schedule on the PokerStars.com website.
PokerStars Stellar Rewards Program
Even though PokerStars rakeback is not available they have recently launched a VIP Stellar Rewards program that works out to be the same as a good rakeback deal at other poker rooms.
With the PokerStars Stellar Rewards program you will be getting an extra bonus amount paid out to your account every time you hit a certain amount of VPPs starting from when you reach your first 750 VPPs.
Comments