Absolute Poker Stud and Mixed Game Poker Tournaments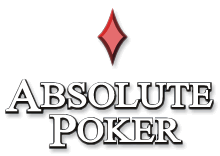 Absolute Poker has a very thorough Hold 'em Poker and Omaha tournament schedule; however, there are very few Stud Poker tournaments and mixed game events running on a daily basis, and there are virtually no guaranteed tournaments outside of a $1500 Guaranteed HORSE event. For the casual Stud Poker player or mixed game player, Absolute Poker will suit you, but if you are looking for a lot of action in these two styles of poker gaming, you might want to try PokerStars or Full Tilt Poker. Bigger online poker rooms have more traffic and are able to offer a better variety of tournaments when it comes to alternative poker like mixed games and even Stud Poker. Absolute Poker does offer a couple big-money weekend NL Hold 'em guaranteed tournaments with prize pools in the hundreds of thousands of dollars, which is where most of the Absolute tournament traffic congregates to.
If you are interested in the few 7 Card Stud Poker tourneys that Absolute does offer, most of them run at the $2+$0.20 buy-in rate, but there are also freerolls and $5+$5.50 events. You can also play Stud Hi/Lo tournaments on Thursday nights at 21:00 EST at Absolute Poker for a buy-in of $2+$0.20; however, some of these events are bumped up to $3+$0.30. Absolute Poker does not currently host Razz Poker (7 Card Stud Lo) tournaments.
Absolute Poker offers about the same amount of mixed game poker tourneys as they do Stud Poker events, which isn't that many, but it's enough to get your feet wet. HORSE is the only mixed game available at Absolute Poker, which is a 5-game mix consisting of Hold 'em, Omaha, Razz, Stud, and Eights or Better. Most HORSE tournaments at Absolute Poker are either freerolls or have a $2+$0.20 buy-in; however, there are a few $5+$5.50 and $10+$1 events about once per month.
There is a $15+$1.50 $1,500 Guaranteed HORSE event that appears to take place monthly at Absolute, so this is the most action you'll find in terms of mixed game guaranteed tournaments. If you do try your hand at HORSE on Absolute, you'll probably eventually end up graduating to another online poker site with more to offer in these styles of events because once you get the taste for mixed games, it's hard to go back to single-game tournaments.
Absolute Poker is a smaller online poker room; therefore, there's just not enough traffic to feed a lot of alternative poker games and tournaments, especially guaranteed tournaments. If you like a small online poker room, then Absolute is great for Texas Hold 'em action and even Omaha for that matter, but it's just not a suitable fit for active players who like to change up their play from the typical hold 'em games. You may want to practice your Omaha, Stud, and Stud Hi/Lo here, try some HORSE, and then move on to an online poker room that has more Stud games, Razz, and mixed game tournaments to offer you.
Comments