Absolute Poker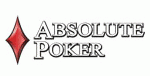 Absolute Poker is an online poker room licensed and regulated in Costa Rica. This online poker room was launched in 2003. Even if they have a smaller amount of traffic, they are currently one of the most promising online poker rooms and the number of players is expected to grow a lot in the future. This online poker room is currently focusing all their efforts in providing some of the best online poker tournaments, so they are heading the right direction.
Absolute Poker is expected to merge with Ultimate Bet and for a new online poker network that will be called Cereus. They are currently opened to U.S. players and everything is great. Absolute Poker is offering great software that is fast, easy to use and good looking.
The moment you will sign up for Absolute Poker you will be eligible to receive a $500 welcome bonus at 100% match up rate. After that you will also have the opportunity to get a reload bonus that can be up to $150 at 75% match up rate. There are also many interesting promotions going on at Absolute Poker including a loyalty program that will offer many bonuses to keen members. Every time you will play poker at Absolute Poker for real cash you will earn Absolute Reward Points, which are known also as ARP. These points can be collected very fast and after you've managed to get enough points you will have the opportunity to redeem them into Absolute Poker merchandise such as T-shirts and other great stuff.
Absolute Poker is still part of the middle segment in the online poker industry. This means that there will not be a massive amount of action at the tables. Right now the online statistics are showing that during the peak hours there will be approximately 9,000 players at the tournaments and around 1,800 connected at the ring games. Since this is still a smaller online poker room you will certainly able to find many benefits like a soft competition. It's a well known fact that the sharks are usually sitting at the large online poker rooms since there will be most of the action at high stakes. And here at Absolute Poker you will have the opportunity to find many beginners that are trying their luck at the game of poker.
The software offered by AbsolutePoker.com went through a major update recently and it is now able to offer a lot more. The graphics are improved along with the speed of the games. You will have the opportunity to get a great multi table function that will allow you to play at more tables on the same screen at the same time. Other cool innovative features include the mouse wheel betting integration and the "make your own poker table background" feature.
The customer support at Absolute Poker is offered only via e-mail. They will offer an answer pretty quick and usually the answers are very helpful.
Deposit Options: Credit Card, NETeller, FirePay, CentralCoin, Electronic Check, bank draft and wire transfer.
Withdrawal Options: NETeller, FirePay and check.