Ziigmund on BIG TILT at Full Tilt Poker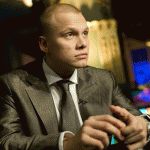 Everyone knows that Ilari "Ziigmund" Sahamies is playing at the highest stakes at online poker room Full Tilt Poker. And every once in a while he is involved in pots that are worth mentioning in a poker news post. Lately there have been a lot of action in the games where Ziigmund has been involved but unfortunately for him the big pots have not gone his way on the virtual felt. One player that have been taking advantage of this is poker pro Phil Ivey.
During a two hour session against Phil Ivey he managed to lose $1.2 million out of which $400.000 was lost in coin flips. In his blog Ziigmund is blaming the loss on being tilted while playing.
Ziigmund had planned to go to London to play the WSOP Europe events but judging from the chat at FullTilt after the big loss it seems as he might not be going.
Ziigmund: no london
Ziigmund: jumping from balkony
Phil Ivey: lol
Ziigmund continues to rant in his blog but he also gave the impression that he might be going to London after all even though it seems as poker is the last game on earth that he would want to play.
"Im going to fcking London next week where I play fcking EWSOP,fcking EPT and F Cesar cup and those fcking cashgames and heads-up tournaments…I hope Im out of those F bullshit things in first level so I dont have to play that f idiot game,"
Comments