Ziigmund in verbal fight with Isildur1 at Full Tilt Poker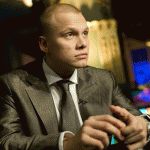 We guess it's not a big secret that Ziigmund and Isuldur1 are not the best of friends. But lately the verbal fights between these two high stakes players have been getting to the point where they would censored on main stream poker news sites, fortunately for you, we are not one of those sites.
A couple of days ago when these two players clashed once more at the Full Tilt Poker high stakes tables Ilari "Ziigmund" Sahamies ended up winning $1.5 million from Isildur1 over just 600 hands and after that he simply left the table without warning. A couple of days later they were playing against each other again and started trash talking in the table chat. Isildur1 thinks Ziigmund is a limping hit and runner while Ziigmund is sure that Isildur1 will not last the duration of 2009 at FullTilt the way he is playing.
Here are the most interesting parts of the chat:
Isildur1: who s the little scared fa g starts lipimg every hand cos hes up
Isildur1: fckn clown
Ziigmund: how long u have been around here
Ziigmund: u r losing after this year if u continue f ag
Isildur1: well see, u keep hit n run me and limping
Ziigmund: haha
Ziigmund: nono
It remains to be seen if Isildur1 can prove Ziigmund wrong and still have funds in his account on the 1st of January 2010.
Comments