Steve "gboro780″ Joins Brunson 10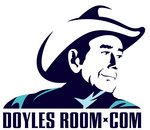 Poker legend Doyle Brunson and his online poker site DoylesRoom have signed yet another player to the Brunson 10 which is the poker team representing DoylesRoom.com. This time it's the online poker pro Steve "gboro780″ Gross who joined the team. That means that there are now 6 players on this 10 man team.
Gross is only 24 years old and he has already manage to win close to $3 million playing online poker tournaments, and another $400.000 playing live tournaments. His biggest live tournament cash this year came in the short handed event of the 2010 PokerStars Caribbean Adventure, which awarded him $135.000.
Steve Gross is also the winner of the prestigious award "Online Poker Player of the Year" which is awarded by CardPlayer Magazine. This year he is in the lead when it comes to taking down the same award. There is no doubt that Gross is a very competent online poker player.
The other members of the Brunson 10 are: Alex "AJKHoosier1" Kamberis, Zachary "Crazy Zachary" Clark, Amit "amak316" Makhija, Chris "Moorman1" Moorman, och Dani "ansky" Stern.
Comments