Phil Hellmuth surprises all entering as Caesar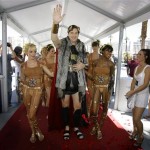 The latest amusing anecdote comes straight from the WSOP in Las Vegas. It involves the no-limit Texas Hold 'em champion, Phil Hellmuth dressed as Julius Caesar and parading through the entrance to the World Series of Poker last Sunday. He arrived in a car outside the Rio All-Suite Hotel & Casino in Las Vegas and was accompanied by dozens of women and trumpeters, which drove the fans into frenzy.
11-time gold bracelet winner Hellmuth had won the WSOP main event 20 years ago and now appears again at the event's poker table. Female gladiators with body paint and muses carrying rose petals in bags accompanied him throughout. Hellmuth's words when interviewed by The Associated Press were "When you dress as Caesar you actually feel more powerful. Kiss my ring!" and continued "Hail Caesar!"
The television cameras showed how Phil was rolled in, greeted Jeffrey Pollack, the World Series of Poker Commissioner and then had a quick change into the standard attire for the start of the tournament.
Already during last year's WSOP, Hellmuth surprised everyone with his Gen. George S. Patton outfit attire, and this year it s Caesar so we are guessing this annual dress up will become tradition. "It's kind of a fun spectacle. I think it's great for poker" were his words. Compared to Hellmuth, the other players had the everyday attire without a bombastic entry but some players did have some gimmicks up their sleeve during the tournament of 2008, trying to draw attention to themselves and maybe distract their competition. Such as last year's number three, Dennis Phillips, who won $4.5 million at the series' final table and had a dozen supporters dressed in a white collared shirt and a St. Louis Cardinals hat.
Meanwhile the WSOP sell-outs are looking great this year with almost 1,700 players entering this year's tournament last Sunday. Many are expecting a bigger sale by today, one to reach a record of 2,600 players. In fact, today (6th July) is the last day entries to the tournament are accepted with hopefuls guessing on an additional 800 new tournament applicants. Last year it was the turn of Peter Eastgate to win the event with a prize of $9.15 million. Eastgate had entered the event through a $10,000 buy-in tournament contested by another 6,844 players.
Comments