New Poker Show to Air on NBC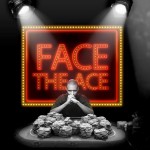 Poker After Dark fans and game show lovers alike will love the new poker show to air later this summer on NBC. Screening for the new Face the Ace will start this summer. The show will be hosted by Steve Schirripa and will first air on August 1st, 2009 at 9:00 p.m. and will move to a Saturday afternoon time slot in September. Seven episodes have been promised, but hopefully the show will be a hit and turn into a long-running show like Poker After Dark has. Both shows are produced by Poker Productions.
The host, Schirripa, is a well-known actor, best known for his role as Bobby Baccalieri on HBO's hit show Sopranos. Prior to his acting career, though, Baccalieri had a career in the Vegas gambling industry, serving as entertainment director at the Riviera Hotel & Casino Las Vegas.
What makes Face the Ace enticing to the game show sector is the aspect of the show that allows the lucky contestant to pick a door. Behind four doors are successful and well-known poker professionals that will sit across from the contestant at a heads-up no-limit Hold'em game. If the challenger wins, he can opt to walk away with the pot or choose another door and face another poker pro. A second win will afford the player the opportunity to win a $1 million pot or walk away with nothing if he loses it all.
Jerry Petry, Executive VP for NBC Universal Incorporated, says "There's nothing like it on the air right now. This will attract the core poker fans who watch it on our network but will also open it up to a new audience of people who like game shows and aren't necessarily poker fans going in."
Following the heels of recent popular game shows of chance like Deal or No Deal, Face the Ace has a very good chance of reeling in a very large audience following, especially since the rounds can go pretty fast, keeping the not-so-much-poker-loving watchers entertained as the show cycles through new players. For your chance to get on the show, you can qualify at Full Tilt Poker, as two FT players will appear on each show. Full Tilt Poker is a partner in the production of the new show, which is good for both parties. Full Tilt will bring in a large portion of the audience, while getting a lot of televised advertisement on NBC at the same time.
Comments