Is Lady Gaga a Hermaphrodite?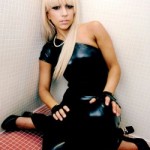 During a press conference, a German reporter from Berlin was told to leave after he questioned Lady Gaga if she has any male gender anatomy. In a cool and relaxed manner, GaGa replied "My beautiful vagina is offended."
Internet rumours started out this questioning of gender and the issue has been mentioned often lately with online gambling sites such as Paddy Power, posting gambling odds on her sex.
The rumours started out after a video footage of Lady GaGa while onstage in Glastonbury this year when she allegedly appeared flashing something peculiar underneath her dress. Since then, many have brought up doubts and questions about the pop star having both gender organs.
Lady Gaga is due to win a lot of awards at the MTV Video Music Awards tonight with her song "Poker Face". You can read more about that in this article.
This is the video that started the rumors a while back.
Do you think Lady Gaga is a male, female or both? Feel free to leave your comments below.
Comments