VMA's show said to be taken by storm with Lady Gaga's "Poker Face"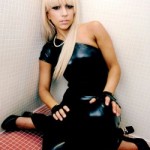 Lady Gaga's "Poker Face," the chart topper hit has been nominated for many music awards at this year's MTV Video Music Awards that will take place this Sunday on MTV. The Poker Face song is taken from GaGa's debut album The Fame.
One of these awards is the Video of the Year award with many aspiring to get the award by showing off sexy poses and bodies. The video was also famous for the MTV forced omission of the word muffin, as this was originally present in the original lyrics and then omitted due its offensive meaning.
Lady Gaga is definitely one of these artists who go overboard; predominantly with her over the top videos and sexy outfits. Sexy and elaborate dance moves that might come across as forced. Ms. GaGa might go over the top during video production but no one can deny her excellent voice and live acoustic performances.
On the other hand, fellow nominee Beyonce with her song "Single Ladies" gives off a natural sex appeal, onstage and on video. Both artists are heavily nominated artists this year and will battle it out on the final night for the big award.
The show will be pod casted on MTV as per annual schedule.
Comments