Ilari "Ziigmund" Sahamies gets a tattoo after losing a prop bet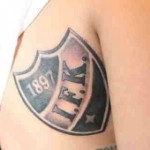 Prop bets are very common in the poker world. Usually the big poker players are making wagers on just about anything and they bet big money. The high stakes poker player Ilari "Ziigmund" Sahamies recently lost one of these prop bets but instead of having to pay up a big chunk of money he had to get a tattoo.
Ziigmund was at a hockey game featuring the two finnish teams HIFK and JYP with a couple of his friends. They made a bet that if HIFK won the game his friend would tattoo the logo of JYP on his chest and if JYP won Ziigmund would tattoo the logo of HIFK on his chest.
They made this bet when the score was 3-3 and we are guessing you can all figure out which team won since Ziigmund is now showing of a brand new HIFK tattoo to the online poker world.
This is what Sahamies had to say about his new tattoo:
It's no big deal. I have been a fan of HIFK since i was nine years old so it really does not bother me that I lost the bet.
Comments