Gus Hansen Loses €1.4 Million Tennis Bet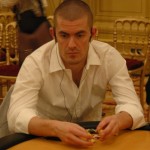 Gus Hansen probably thought he had found a safe bet in Rafal Nadal the French Open. But Nadal got knocked out of the tournament by Swedish tennis pro Robin Söderling and that loss cost Gus a cool €1.4 Million.
Gus "The Great Dane" Hansen is one of the most famous poker players in the world when it comes to high stakes games. But it is not only when it comes to poker that he is betting big. He also likes to bet on various sports. When the French Open was played in June he places a €1.4 Million bet on Rafael Nadal to win the whole tournament.
Before the start of the tournament Nadal had not lost a game in the French Open for over 5 years but that all changed in his match against Robin Söderling from Sweden. Nadal got knocked out of the tournament and Gus lost his Million Euro bet.
Hopefully Gus Hansen will have a profitable run in this years WSOP to make up for that loss.
Comments