Fr. Andrew Trapp is the "Poker Playing Priest"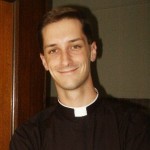 Fr. Andrew Tapp, a.k.a The Poker Playing Priest will be appearing on PokerStars.net in an aim to win the Million Dollar Challenge. He will be showing his poker skills hoping to win in aid of the service of building of new Church building. This building will be the new Church where Fr. Andrew and the Pastor will be celebrating Holy Mass if the plan succeeds.
All his winnings will be donated to the building fund. The show will be aired on Sunday, Oct. 11, directly after NFL on FOX coverage when Father Trapp will be joining the other qualifiers from around the country hoping to win the grand prize of $1,000,000 in the PokerStars.net Million Dollar Challenge.
Fr Andrew commented;
'Even if I didn't win any money, it would be an opportunity for people across the country to see that there are still young men choosing to be priests, and that one can be joy-filled and have fun as one serves God. Poker is one of my hobbies. I play it with family and friends. It's a way for people to come together, have fun and enjoy each other's company. There's no moral issue.'
When questioned, he quoted that the Catechism of the Catholic Church has addressed the issue of games of chance such as Poker clearly in Par. 2413: "Games of chance (card games, etc.) or wagers are not in themselves contrary to justice. They become morally unacceptable when they deprive someone of what is necessary to provide for his needs and those of others. The passion for gambling risks becoming an enslavement. Unfair wagers and cheating at games constitute grave matter, unless the damage inflicted is so slight that the one who suffers it cannot reasonably consider it significant."
The locals of the St. Michael Catholic Church parish in Garden City, South Carolina are all supporting and praying for their "Poker Playing Priest" and have come to view him as a local celebrity. They have given him the nickname of "Father Rambo" due to his poker skills as well as in paintball.
28 year old, Father Trapp was ordained to the order of Priest in 2007 and is known for his energy, love for the Lord and joy in his priestly ministry to the faithful. He started playing poker with family and friends and then heard about the PokerStars.net Million Dollar Challenge game show. He then considered entering a specially designated online tournament at PokerStars.net.
This was followed by his entry video, which can be viewed below
The Church Pastor and his Bishop, the Most Rev. Robert Guglielmone gave Father Trapp their blessing and the latter flew to Los Angeles. Armed with his own skill, his prayers and many faithful supporters, the priest will also be coached by four-time WSOP bracelet winner Daniel Negreanu.
The next step is to beat one of the celebrities in an opening round "heads up" match and if that goes well, he would then progress to face off against a Team PokerStars.net Pro for a chance at winning $25,000.00.
Comments