Doyle Brunson's Autobiography to be released next week
Doyle Brunson has been playing poker forever, and he has been working on his autobiography for a very long time. Next week it is finally time for the book about Doyle's life to hit the book stores that will go under the title "Godfather of Poker".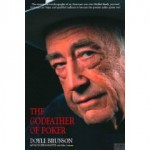 Doyle "Texas Dolly" Brunson is a true living legend in the poker world. He has lived a life full of gambling and exciting events. His autobiography has been a work in progress for a long time but now it is finally ready and all of you out there who are interested in an inside look in to Doyle's amazing life will have you chance to buy the book next week.
The book is going to be released in stores on the 11th of November 2009. This is a 372 page book full of exciting events from the legends life. It also contains a lot of stories and pictures that has never been shown before.
Here at Online Poker News we have already placed a pre-order of the book at Amazon at the bargain price of $17.79 and we will be posting a full review of this book as soon as we have read it.
Comments