Chris Moorman becomes one of the Brunson 10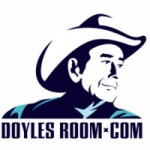 The team that will represent the online poker site DoylesRoom.com has been given the name Brunson 10 and it's starting to take shape as we speak. The latest player to be chosen to represent the poker legend Doyle Brunson's own poker site is Chris Moorman. Chris is only 24 years old and he is the fourth player to be recruited to the team.
"Moorman reminds me a lot of me, except for the British accent. He's a poker natural, a legend in the making, and that's why I've handpicked him to be the next member of The Brunson 10," Doyle told Bluff Magazine.
In the Bluff Magazine ranking of the best online players this year Chris Moorman is in fourth place. When it comes to live games Moorman is up $300.000 for the year but when it comes to online poker he is up $1.8 million during 2009.
It will be interesting to see who the final six players on the Brunson 10 are going to be.
Comments