Carbon Poker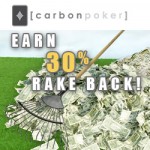 Ever thought you could be losing a lot of money each session from the amount of rake the poker room takes from each pot? Ever thought it would be great to get some of that money back? Well, now you can! At Online Poker News we strive to bring you the best deals at each poker room, and this one will not be topped. For new players at Carbon Poker, we are offering you the chance to receive 30% of your rakeback, paid into your account each and every day! Not only is 30% remarkably high, you will not find another site that will pay out rakeback each and every day to customers and not let them down. All you have to do when signing up is use this link, and then use the bonus code USRAKEBACK when asked at the registration process. That's not all either; you will also receive a 100% deposit bonus with a maximum value of $600. They will even allow you to play new player freerolls for 14 days and new depositor freerolls for 14 days as well. If you can find a better deal then this, please, we would love to know about it!
Here are the 2 simple steps needed to get your account set up to receive rakeback
1. Please clear all cookies and temp files from your computer through your internet options. If you do not follow this process your account may not be applicable for rakeback. Once done, please follow this link and download the Carbon Poker client.
2. Once you have downloaded the client, you will be greeted with a registration page. Simple enter your details then when asked, enter the sign up bonus code USRAKEBACK.
That's it! Your account will then be set up to receive rakeback.
$600 Sign up Bonus at Carbon Poker
As stated above, you also receive a 100% match bonus up to $600 when making an initial deposit using our sign up bonus code USRAKEBACK. This is a much improved Carbon Poker Sign Up Bonus so be sure to take full advantage of it. Yu also receive 14 days entry into the new player and new depositor freerolls, which have prize pools of $50 and $1500. They also place a $2+0.20 satellite token into your account which can be used to try your luck at winning a seat to the WSOP.
To clear the bonus you are required to earn points from playing real money hands and real money tournaments. The bonus is paid out in increments of $10 and you must earn 500 VIP points to reach each increment.
When is the rakeback paid out?
Your rakeback is paid into your account each and every day. The payment is normally made around 02:00 EST. You won't find a site more dedicated to paying you your rakeback payments than Carbon Poker.