Doyles Room Rakeback Promo Code March 2010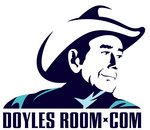 This month at Doyles Room you will be able to get a life long rakeback deal when creating your account through us here at OnlinePokerNews.org. What we can offer you is the best possible rakeback deal that you can find at Doyles Room, and on the whole Cake Poker Network for that matter. Follow the instructions on this page and you will be on your way to get started with a 33% rakeback deal and a 110% up to $550 first deposit bonus.
Step 1 – Clear your cookies and temp files and then click here to get to the Doyles Room website.
Step 2 – Click on the "Download Now" button to get to the registration page. On the registration page it is very important that you enter the Promo Code DOYLES33 when asked. If you fail to enter this code we can not guarantee that you will get the rakeback deal.
Step 3 – Go on to download the software and install it on your computer.
Step 4 – Complete the registration and make a first deposit and you are ready to go.
110% Bonus up to $550 at Doyles Room
As a new player at Doyles Room you will always be welcomed with a 110% bonus up to $550 and this is obviously available for you as a rakeback player as well. The great thing about Doyles Room is that they don't make any deductions for bonuses paid out so it will not affect your rakeback deal when you clear your bonus.
Rakeback Payments Schedule
As a rakeback player you will be getting 33% of all the rake you generate back to your poker account once a month. The rakeback payments at Doyles Room are usually made within the first 5 days of the month.
Rakeback Support
If you have any questions about this rakeback deal at DoylesRoom.com you can either leave a comment in the comment box below and we will reply to you here and by email or you can just contact us by email at info (at) onlinepokernews.org.
Comments