Deal or No Deal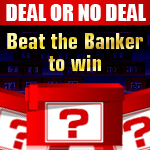 Many of you may know the popular TV game show "Deal or No Deal". This game is now available as an online casino game version at the PKR Casino where you can play Deal or No Deal for real money.
Here at online poker news we have tried out this new casino game and we have to admit that it is pretty entertaining even though the sound effects when the guy in charge of the virtual TV show is calling the banker can be pretty annoying. A good feature with this casino game is that there is a quick pick version available for the true degenerates who don't have time to pick their own boxes and take part of the excitement.
Players creating their PKR account using the PKR Poker bonus code PBS800 will get the maximum possible bonus when playing Deal or No Deal at the PKR Casino.
Comments