2010 WSOP Race and $8 No Deposit Poker Bonus at Pacific Poker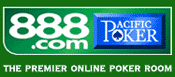 If you are a frequent visitor here at OnlinePokerNews.org you may have noticed that we have temporarily changed the main banner on our site to let you all know that you can get a $8 no deposit poker bonus at Pacific Poker.
This is a very limited time offer to that is available to all our readers that are living outside of the US. Only the first 50.000 players who sign up for this offer at Pacific Poker will be able to get the $8 free bonus.
This bonus is a part of the current WSOP promotions that are taking place at Pacific Poker and if you are lucky you won't even have to make a deposit to make it to the 2010 World Series of Poker in Las Vegas.
To learn more about all the different ways to qualify for the 2010 WSOP at Pacific Poker you better visit their website here, and while you are there you can claim your free $8 no deposit bonus. If you want to make sure that you get tracked properly for this free bonus please make sure to enter the poker bonus code 328472.
For those of you from the US looking for ways to qualify for the WSOP this year we suggest you head over to our 2010 WSOP satellites page where we are listing the best poker rooms offering qualifiers.
Good luck with your free $8 at Pacific Poker and hope to see you all in Las Vegas this year.
Comments