CardSpike Poker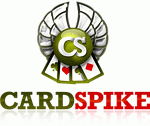 CardSpike Poker is a relatively new online poker room, but this doesn't mean that they are in any way behind other established online poker rooms that are out there. CardSpike Poker started out being part of the Cake Poker network, and they are ready to become an important player in the competitive world of online poker.
CardSpike Poker was launched in 2008, and they are considered to be the most promising online poker room that was launched this year. Since they are part of a growing online poker room, online poker players that are joining CardSpike Poker will have the opportunity to join and play poker against a good number of players right from the day one since it was launched.
CardSpike Poker is currently accepting players from United States, and they are also offering a generous sign up bonus. Each new online poker player that will join them and make their initial deposit will be eligible to receive $500 at 100% match up rate. In order to have the bonus released to your account you must play poker for real cash and earn FPP points (Frequent Player Points). These points will give you also the opportunity to earn CardSpike Poker merchandise as: t-shirts, caps plus other cool stuff or even take part of the freerolls that are given away by CardSpike Poker.
CardSpike Poker is using the software created by the Cake Poker team. Right now there are many popular online poker rooms that are using this online poker client like: BetUS and of course Cake Poker. The game play is going to be fast and the graphics are looking great. You will also have the opportunity to have access to a good number of features that will help you find the best tables and watch your evolution at the tables.
The graphics of CardSpike Poker are realistic since they tried to create a life like appearance in the world of online poker.
In case you are going to compare CardSpike Poker to all the other large online poker rooms, they are in the middle segment of the industry. The online statistics are saying that on average there will be around 2,000 players connected at the tables. Even if you might not get a similar action at the tables compared to all the large online poker room out there, you will still have the opportunity to find a good amount of players playing at the mid and high stakes.
The competition at CardSpike Poker is very soft. You will have the chance to see many tables with stakes of $2-3 with an average flop percentage of 60%, and as you go down at the micro stakes the flop percentage is going to be even at 80%.
Most of the action at CardSpike Poker is going to be concentrated at the Texas Hold'em tables. So in case you are a fan of this online poker game you will certainly be able to have a lot of fun at CardSpike.com.
Even if CardSpike Poker is still a new and small online poker room, you will still be able to get high quality customer support via e-mail, phone and live chat. The staff is going to be very friendly and you will also have the opportunity to get some helpful answers.
Deposit Options: Visa, MasterCard, CashTransfer.
Withdrawal Options: Cashier's Check.