Women's World Open IV to Take Place this Month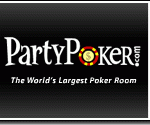 PartyPoker and Matchroom Sport have announced that the PartyPoker.com Women's World Open IV will happen in London this month on March 23rd through 24th. The event will feature 24 female players and a buy-in of $3,000, the prize pool will consists of $72K and a 6-seat final table. Three deep-stacked 8-handed heats will send the top two players from each to the final table. Starting chip stacks for the heats will be 200K with 1,000/2,000 starting blinds.
Confirmed participants are Team PartyPoker's Kara Scott, as well as Anette Obrestad. Also appearing will be Aisling Collin's, last year's winner, and Japan's Kim Wooka, last year's runner up. Also confirmed are Shelley Rubenstein, Maria Demetriou, Laurence Grondin, Stefanie Bergener, Pippa Flanders, Christine Klecz, and Women's World Open II winner, Soraya Homam.
Jesse May will provide commentary, with presenters Kara Scott and Tatiana Pasilic. The event will be internationally broadcast later this year.
Collin's, a Sky Poker producer, was last year's winner with her aggressive play. Spokesperson for PartyPoker said, "Last year Aisling proved that Britain 's got talent but the same can be said about Japan in the form of Kim Wooka. Both will be strong contenders for the title this year. We've made the stacks deeper and the competition is just as fierce. It is great to have Kara in the line-up, she made her major breakthrough in the poker world by reaching the final table of the inaugural event and then she went on to cash big at the WSOP Main Event and Irish Open."
Matchroom Sport director, Eddie Hearn, said, "The PartyPoker.com Women's World Open has proved extremely popular with players, viewers and broadcasters over the last three seasons. As the game continues to grow, we have made a number of changes to our formats that enable the viewers to watch a deeper-stacked game with more skill, where players can really showcase their ability and flair." Hearn continued, "We are delighted to welcome back Aisling Collins who will be defending her title but it won't be easy as the likes of Annette Obrestad, Kara Scott, Laurence Grondin, Kim Wooka and Maria Demetriou will be looking to take it down."
Comments