'Total Gaming Services' offered by 888's Dragonfish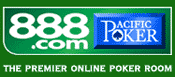 Dragonfish is a new white-label enterprise by Pacific Poker. This new business-to-business (B2B) launch was announced this week by 888 Holdings. B2B was named to make a difference from its traditional B2C business. Dragonfish's work will be directly with the online gaming operators and media companies that are looking into brand loyalty and media assets as well as monetizing their existing database or enhancing existing internet gaming operations as poker, bingo, sports and casino.
'Total Gaming Services' is the motto for Dragonfish as they offers technological and operational services and ePayments, as well as management of affiliates, SEO, CRM, business analytics, online and offline marketing. Back in 2007, Israel-based 888 Holdings made the strategic move to accomplish their B2C experience in online gaming. Their aim was to become the largest B2C operator moving into the B2B arena. During 2007, contracts with Riley's, Tower Torneos and LuckyAce were already signed.
More B2B deals were signed in 2008 in Western, Central and Eastern Europe, also including the innovative and strategic partnership with the UK Football Pools / Sportech Plc. Dragonfish is also the provider of the full managed service including all marketing, operational and technology of the Sportech's Littlewoods brand.
An agreement was signed this week between Dragonfish and Racing Post. 888 is to provide the latter with a comprehensive online casino and poker product for the firm, this to include their customer support, back-end software and the payments processing.
888 had announced earlier this week that their poker revenues decreased by 4 percent in 2008. Pacific Poker believes that Dragonfish will be a good provider and support towards a considerable portion of 888 Holdings' profits by the end of 2010 financial calculations.
Comments