Seinfeld star Jason Alexander still in the WSOP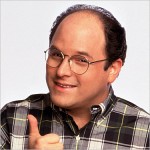 Jason Alexander, celebrity actor in the Seinfeld series as George Costanza is competing in this year's WSOP in Las Vegas. After 2 full days of action, he is still in the game tournament. This is not the first year Alexander is participating in the event as he has done so in the past years. He's never won money at the event but he might this year if he is amongst the top 648 in order to get a money prize.
On Tuesday, the second day of playing, he was up by 73,700 chips, just below the average stack of 97,650 chips. The leader at the moment is Andrew Gaw from the Philippines with 386,000 chips. Nevertheless, Alexander is still in the running for the top prize of more than $8.5 million.
The Main tournament commenced on Monday with a total of 6,494 entrants. They were split in the four separate groups and will play over four days. Day two was then split into two groups with Jason Alexander among those 607 players out of 1,989 survivors of Day 2A Tuesday. His next day of play is Friday.
Day2b will see another 2,922 players.
Comments