PokerTek Gets Backing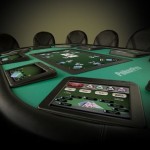 Back in August, ICP had made a first investment in PokerTek when they bought the 565,000 shares of common stock for the price of 85 cents per share. Now, news has it that ICP Electronics Inc. was the one to buy the 120,000 shares of its common stock that were available for the price of 90 cents per share.
ICP Electronics, the company based in Taipei was founded back in 1997. Its company aim is to market and sell its products and services to those companies specialising in electronics and technology.
The software-development company PokerTek markets electronic tables for up to 10 players for the standard Texas Hold 'Em game. Their systems, such as PokerPro work on dealing cards and keeping the statistical information on the games played. They also display them on private screens to their players and showing the general information on a large screen in the centre of the table while enabling the customers to set up accounts for betting.
Such a system is intended to increase the casino revenue by elevating the number of hands made per the hour and thus dropping the overall poker rooms HR and human related costs.
Comments