PokerTek expands in Nevada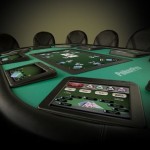 The Mountain View Casino in Pahrump, Nevada has been the venue for the PokerTek Inc. 's installation of two PokerPro tables. With already 12 PokerPro set tables at the Excalibur Hotel and Casino on the Las Vegas strip, PokerTek already has established their field.
The financial terms of the agreement have not been disclosed as yet. PokerTek is based in Matthews as a software-development firm that markets Texas Hold 'Em electronic tables for up to 10 players at one go. Casino revenues are hoping to get the necessary financial boost through this system with the increasing hands per hour and also reducing the usual labour costs of poker rooms. PokerTek is also marketing for the tables used in restaurants and bars.
Their PokerPro system deals the cards, displays them to the players on the relevant private screens and further displays general information on the larger screen at the centre of the table. This system also enables customers to set up betting accounts and holds the data and statistical information on the games.
Comments