Players Investment Company and Merge poker Network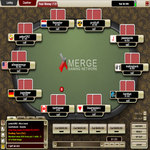 Two big organizations, namely (PIC) Players Investment Company, the online poker payment processor and the Merge Poker Network have ended their existing business relationship with this maybe leading to further dispute and battles between the two.
The end of this partnership was announced last week by the PIC-Club chief executive, Chuck Kidd who sent an email to the players announcing the end of PIC's connections with Merge Network. He also mentioned that some of the Merge skins may now want to enter into direct processing agreements with his company.
This email then led to a comment by Anthony Taylor, the Merge chief executive, who issued his own statement as follows: "It has been brought to my attention, via comments in a public forum, that there is some confusion regarding a relationship we have with a payments provider. To be clear, it was Merge Gaming, who served notice on our agreement with Pic Club."
Neither PIC, nor Merge have mentioned the reasons for this dissolution of partnership and the speculation on internet poker message boards and forums continues.
However, the Merge executive did say that; "The reasoning behind this is a matter of private record. Merge Gaming attempted to resolve the issue brought on by PIC Club, one of its principals, and one of its members, and without resolution, felt it was in the best interest of our customers to end this relationship immediately. We've cancelled our agreement to protect our players, our network partners, and our reputation going forward."
Poker rooms on the Merge Gaming Network includes PDC Poker, Carbon Poker Reefer Poker, PokerNordica, Iron Duke Poker, Spin32 Poker and Aced Poker.
Comments