Jamie Gold and Aced.com part ways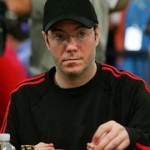 Jamie Gold and successful online poker site Aced.com have benefited from a hefty eight-figure endorsement deal through the years but this deal has now fallen apart. The 2006 WSOP Main Event Champion is now left without a major endorsement deal.
The break-up deal seems to have originated from some non-payment issues that have been alleged between the two parties. This seems to include expenses that Gold and his agents incurred while he was representing Aced.com's interests at an Oscars Night poker event and during an appearance overseas at the PaddyPower.com Irish Poker Open.
According to Gold's spokesman, the site failed to bring home promises connected to a proposed six-month advertising campaign for the site and that a minimum of one written contract had been broken in the process. The Aced.com official did not comment, confirm or deny any specifics in the matter although one particular e-mail inquiry directed to Aced went unanswered.
Jamie Gold is now history on the Aced.com site. This is not the first time that he had to stop an endorsement deal such as when he was representing Bodog Poker for several months.
Gold was soon off to a rocky start as he got involved in a drawn out legal disagreement with Bruce Crispin Leyser. This was a controversy involving the procurement of players to represent Bodog during the '06 WSOP Main Event.
Leyser tried to claim 50 % of Gold's $12 million champion's winnings and this followed in an undisclosed settlement for the two parties at a later date. The 2006 WSOP Main Event gave Gold a spectacular $12 million first-place win which still remains the single largest poker payday ever recorded. This crowned Jamie Gold as the WSOP's all-time career tournament earnings leader.
Comments