Hamann, Former Liverpool/Newcastle Star in big Debts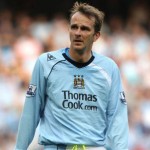 Former Newcastle and Liverpool midfielder Dietmar Hamann is facing £ 600,000 in gambling debts. He is now appearing committed in finally tackling this major debt and insisted that he would escape the horrid possibility of being taken to court.
Now a free agent after his Manchester City contract ran out, Hamann is not in a nice place as spread betting company Sporting Index is searching for legal action after having served the paperwork to the High Court. These documents show a lot of arrears that had been accumulated over the past three years. Sporting Index decided to take action following Hamann's no-show at the January 3rd hearing deadline to clear the debt. At the moment there are no reports that the german footballer Hamann ever gambled on football matches he might have influenced.
Sporting Index and Hamann are trying to negotiate a compromise that suits both. The footballer, now 35, had reportedly racked up debts of £706,000 by December, and has only repaid £100,000.
Regardless, the latter is positive there will be no court hearing as he stated, 'We will find a solution. There won't be any court hearing.'
Comments