Dream Team Poker Taking Place in at Caesar's Palace, Las Vegas, this Weekend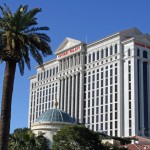 The Poker Dream Team, which runs this weekend through March 29th at Caesar's Palace in Las Vegas, will host guest poker players this year that include Phil Hellmuth, Mike "The Mouth" Matusow, and Jerry Buss, owner of the LA Lakers.
An all-women's team will also consist of Maria Ho, Lacey Jones, and Tiffany Michele. Veterans to the Dream Team include T.J. Cloutier, Kathy Liebert, and Tom McEvoy. Also participating will be Justin Bonomo, Todd Brunson, Jeff Madsen, Quinn Do, and many others.
Daniel Delshad, Dream Team Gaming CEO, says, "The overwhelming interest from top poker pros to participate in a non-televised, five-hundred dollar game proves that the Dream Team Poker concept provides a needed, new experience to players. With team registrations coming in from all over the United States and internationally, I look forward to watching the battle for best team in poker."
Jim Pedulla, Poker Room Director at Caesar's Palace says, "Dream Team Poker offers a creative structure to team poker and we are proud to host this event in the World Series of Poker tournament room, which is also the site of NBC Heads Up Poker and daily poker tournaments."
The event will support 300 players divided among more than 100 teams, all expected to participate in the $550 per player, $1,650 per team, Dream Team Poker tournament at Caesars Palace. All players will receive VIP packages including special room rates at Caesars Palace, customized team jerseys, a private welcome party, which took place on Friday, March 27, and a trophy ceremony on Sunday, March 29.
Last year's Dream Team Poker tournament, which took place at the Hard Rock, was won by Team Bluff, the team of Eric Morris, Matt Parvis, and Bodog Poker pro Justin "ZeeJustin" Bonomo. The team won $39,000 along with championship rings worth $5,000 each.
Comments