Children's Inheritance managed by mother for Gambling use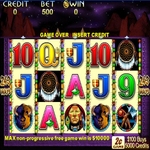 It had been reported that an Australian woman; a mother from Canberra has been accused of stealing more than $500,000 out of her children's inheritance. The accused, Katherine Hawcroft, of Latham in the north of Canberra, then proceeded to lose most of this amount by playing the pokies machines.
The woman denies these accusations but will face the ACT Supreme Court today after being charged with a full 229 counts of theft. The money is said to be taken from her three children and two nieces and the court claim they heard that she was entrusted to manage an investment property in the children's name.
This trust management was meant to last until the youngest one of them turned 25 in 2011 but she supposedly sold the said property in secret back in 2000 and spent the income made. This property was previously owned by her deceased parents and she allegedly spent $523,000 when playing the pokies at two clubs in Canberra during the period November 2000 till April 2003.
This amounts to the majority of the children's money. During a pre-court hearing, the 229 accusation counts were read out individually and Hawcroft pled as not guilty to all of them.
Comments