The recent chapter in the ongoing US online poker saga targeted Bodog.com, one of the only more well-known online poker sites still accepting US players. The US Department of Homeland Security and the Department of Justice seized the Bodog.com domain on Monday just before four individuals including Bodog founder Calvin Ayre and three other of Ayre's executives, James Philip, Derrick Maloney, and David Ferguson, were indicted on charges of money laundering and running an illegal sports gambling operation between June of 2005 and January 2012, according to the Baltimore, Maryland US Attorney's Office.
Maryland US District attorney Rod J. Rosenstein commented, "Sports betting is illegal in Maryland, and federal law prohibits bookmakers from flouting that law simply because they are located outside the country. Many of the harms that underlie gambling prohibitions are exacerbated when the enterprises operate over the Internet without regulation."
The indictments allege that Bodog Entertainment Group, aka Bodog.com, facilitated payments by processors, namely ZipPayments and JBL Services, to transfer more than $100 million to US gamblers and Bodog business promoters.
The four Canadian defendants are facing up to 25 years in prison. As for the company, Bodog is still in operation, as the company was no longer using the Bodog.com domain and had moved operations over to Bovada.lv for US players. The Bodog brand and Bovada.lv domain are run by the Morris Mohawk Gaming Group located in Quebec, Canada in the Mohak Territory of Kahnawake.
Ayre, a philanthropist billionaire, said of the allegations, "I see this as abuse of the US criminal justice system for the commercial gain of large US corporations. It is clear that the online gaming industry is legal under international law…it will not stop my many business interests globally that are unrelated to anything in the US and it will not stop my many charity projects through my foundation."
A new poker app for Android phones, Poker Agenda, provides users with a complete list of upcoming tourneys on popular online poker sites including Titan Poker, Bet365, PokerStars, SunPoker, and CentreBet. The app also has the option to alert you via your device calendar based on tournament reminders you set. This is cutting edge software that will allow online poker players to better keep up with their favorite tournaments without missing any of them.
Though you cannot play online poker via this app, you can only view the tournament schedules for the sites listed above. Poker Agenda keeps up with multi-table tournaments, buy-ins, amount of players, and game type, as well as satellites and freerolls. A recent update offers an enhanced interface with new features such as rakeback, bonuses, and promotions.
PokerAgenda is compatible with Android 2.1 or newer devices. It is 182 KB and more than 10K users have uploaded the app already since its original release. More online poker rooms will likely be added in the future, as there is a survey on the NobleDroid blog, the official Poker Agenda blog, that asks what networks/sites users and potential users would like to see incorporated into the software. PartPoker, 888Poker, and iPoker are in the front running.
Unfortunately Poker Agenda is not compatible with iPhone.
Perhaps the most missed thing about former Full Tilt Poker, besides players' money, is Rush Poker. Rush Poker was the best new thing to hit online poker since multi-tabling for many players and provided an exhilarating change to the monotonous daily grind of regular online poker. So it only makes sense that another version of the highly popular and highly addictive poker variant surface. Meet Zoom Poker, PokerStars' answer to Rush Poker that will attempt to fill the void left by Rush Poker.
Only available on PokerStars' test client (TestPokerStars), Zoom Poker is a fast-paced online poker game that is available for play money to registered PokerStars players only. This new game allows players to join larger "clouds" of players and are then seated at a random table. The player then has a choice of folding and moving to a new table within his cloud, or playing the hand.
In Zoom Poker, players can see about 200 hands per hour on average, possibly even more, as players can have up to four simultaneous entries in a cloud. While only 6-max NLH is currently available through the test site, the lobby features future spots for LH, PLO, PLO h/l, and more.
Learn how to use the PokerStars Test Site here.
Below is a video of Zoom Poker.
Young gun Dane poker pro Mickey Petersen, known online as "mementmori" took the first place win at the 2012 EPT Copenhagen yesterday and a €338,133 paycheck, worth about $455K in $US. This is only a drop in the bucket for the Internet poker phenomenon though, as his online earnings total more than $4.6 million. He's only played in about 50 live tournaments, which account for about $700K, including the EPT Copenhagen, which proves that although he doesn't have as much live experience, he's just as good at the felt as he is at the computer.
Petersen said of his win, "This is so special to me. Not only is it the first time I've done well in a live event but doing it on home turf like this is just amazing. I'm good friends with Rupert (Elder), David (Vamplew), (Kevin) MacPhee and Ben (Wilinofsky), all those guys that have won EPTs in the last couple of years so to join that club is awesome."
Petersen started the eight-man final table at the Casino Copenhagen in fourth place. He ultimately made his way through the opposition to a heads-up battle against Pierre "Zoutechamp" Neuville, Team PokerStars Pro. Six hours later, Petersen finally emerged the winner after both he and Neuville were all in pre-flop with A/5 vs. A/4, respectively. The K/J/6/3/5 board sent the hand to Petersen.
Petersen explained the ups and downs of the final session: "I felt pretty confident going into the heads up match but I'd like to think that I ran really bad in cards in the first couple of hours. I barely had a pair and I had ace-jack once and had to fold it. I was getting run over a little bit and then I made two stupid mistakes that I kind of regret which put a little doubt in my mind. Eventually I managed to grind it back, very slowly and steadily so that was really nice."
Former Full Tilt Poker pro, Phil Ivey has entered his first US tournament since charges were brought against Full Tilt Poker last April. Ivey has reportedly entered the first day of the 2012 LA Poker Classic Main Event, an event that he won back in 2008.
Since Black Friday (April 15th, 2011), when the US Department of Justice took down the three major US poker sites, Full Tilt, PokerStars, and Absolute Poker, shutting them down indefinitely to US players, Ivey has publicly denounced his former sponsor site for not handling player accounts responsibly that resulted in millions of dollars in player funds unpaid.
Ivey filed lawsuit shortly after Black Friday against Full Tilt for $150 million in damages. This was the amount owed to former players of Full Tilt. Once Full Tilt began negotiating with Groupe Bernard Tapie regarding a buyout/takeover, Ivey withdrew the lawsuit. Ironically, Ivey is one of a handful of pro players who reportedly owe Full Tilt money. Ivey allegedly owes about $4 million to the site, which along with other debts owed to Full Tilt by high-profile players, is holding up the Groupe Tapie sale.
Ivey then refused to play in the 2011 World Series of Poker to protest the thousands of scorned Full Tilt players who still had not received their account balances. A few months ago, Ivey entered his first tournament since Black Friday, the Asian Pacific Poker Tour Macau Main Event. Then in January, he went on to win the Aussie Millions Super High Roller event and took home a $2.1 million paycheck.
Day 1 of the 2012 LA Poker Classic Main Event began on February 24th. Ivey remains in play. Day 3 kicks off today.
Last Friday, a new online poker campaign was launched in California. The Internet Gambling Consumer Protection and Public-Private Partnership Act of 2012, if passed, will permit intrastate online gambling in California. The bill dictates that only poker would be allowed for the first two years of regulation.
Pending a regulatory outline, eligible operators can apply for a 10-year license and if accepted, will have to pay a licensing fee of $30 million, credited against monthly revenue.
This bill seeks "to provide hundreds of millions of dollars annually for the public services that have been cut repeatedly during the state's budget crisis" in hopes that at least $200 million will be earned for the state in the fiscal 2012-2013 year. This all looks great on paper, but it won't be good on paper. California Governor Jerry Brown has made it publicly clear that he is skeptical that legalized online gambling would solve the cash-strapped state's economic problems.
California's tribal casino community, which pays hundreds of millions of dollars every year to the state for gaming contracts, is divided on regulation. Gaming experts took the cause to Washington in earlier this month to shed light on how a federal Internet gambling bill would affect the tribes. One attorney testified that the large licensing fee imposed by California would leave tribal casinos helpless.
Neighboring state, Nevada, has already legalized intrastate online poker and are close to licensing.
At the end of last year, 2010 World Series of Poker Champions, Jonathan Duhamel, reported his winning WSOP bracelet stolen after a home invasion took place. Fortunately, the bracelet has now been recovered, though it was found in a very unusual place in a very unusual way.
An employee of a street sweeping company that cleans the streets of Montreal reported the find. The bracelet was discovered last Wednesday by a street sweeper who had cleaned the Ville-Marie tunnel. The bracelet was found in a dumpster where cleaning residue accumulates on the street sweeper. The bracelet is not in the best shape, and needs a lot of work, if not to just be melted down and re-cast.
Duhamel's ex-girlfriend, Bianca Rojas-Latraverse, and her accomplice await trial for their part in the forced entry invasion into Duhamel's suburban Montreal home. Rojas-Latraverse is charged with assault, conspiracy, breaking and entering, and armed robbery.
How the bracelet ended up on the streets is still unknown.
Duhamel was the first Canadian to win the WSOP, taking home $8.9 million for his first place win.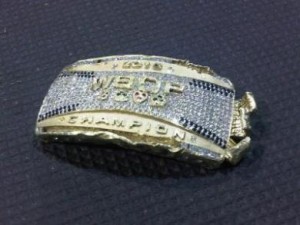 As tension surrounding the buyout of Full Tilt Poker by Groupe Bernard Tapie continues to swell, the lag on the finalization of the deal is being blamed on some high-profile poker pros who allegedly owe the company money.
Laurent Tapie commented on the hold up: "The poker community, and particularly that of former players of Full Tilt waiting to recover their funds, deserves to know the reality of the behavior of some major figures in poker who say sorry for the situation …who blame the former leaders, but refrain to indicate how much they have borrowed from Full Tilt, and lost, playing on the site."
According to Tapie, both Mike Matusow and Layne Flack owe $700,000 each, while Barry Greenstein owes the flailing online poker site $400,000. But that's not even the half of it. Phil Ivey reportedly owes Full Tilt $4 million and David Benyamine, $2 million.
Matusow tweeted, "For all my fans out there, just to let u all know I don't owe full tilt anything why my name is mentioned I don't know."
However, GBT/Full Tilt attorneys are adamant that Matusow does in fact owe "nearly $700,000." Attorney Behn Dayanim claims, "Mr. Matusow has not responded to our attempts to reach him to discuss the matter."
If it were untrue, Matusow would have a pretty hefty slander lawsuit on his hands, but there's been no news of this.
Leader in Internet poker tourney entry fee protection and indemnity, BubbleProtection, has announced that Ylon Schwartz will represent the company as a third spokesperson, joining Chris Moorman, online poker phenomenon, and Will Failla, ranked number one on the WPT.
Schwartz, who made the November Nine of the 2008 WSOP Main Event, finishing 4th and taking home $3.7 million in winnings. Live and online tournament career winnings totals more than $6 million. Originally a chess and backgammon player from Brooklyn, New York, Schwartz is now one of the most respected online poker players in the world. He can be found online under the screen name "TenthPlanet."
Schwartz is not only well-known in the poker community, but in the chess community as well. He was a Chess Master and competed against the highest ranked chess players in the world. He brings the experience and strategy he learned in chess to professional poker.
Schwartz says of the new partnership, "I am proud to be associated with a company that has introduced the most innovative new poker product I have seen in many years." He continues, "BubbleProtection presents a new wrinkle in how to play tournament poker. It offers a user a significant strategic advantage during the most crucial stages of tournament play, allowing you to accumulate chips leaving you in a powerful position for the endgame. When properly employed BubbleProtection will result in a significant increase in your cash rate and considerably more final tables. Like my friend and fellow spokesman Will Failla, I can't wait until we are playing again in the U.S. and I am able to put this strategic advantage to work for me."
The revolutionary Bubble Protection is an online poker tool that offers insurance to players and was created to help players capitalize on the hundreds of thousands of Internet poker tourneys played globally every week. By purchasing Bubble Protection, a player can protect his entry fee and "bankroll" in the event he ends up in the "bubble" position. In a nutshell, it gives players a strategic advantage, protects their bankrolls, and improves overall tourney results.
BubbleProtection CEO and founder Eugene Castro, says, "I am so pleased one of the most analytical people I know is passionate about BubbleProtection to the extent that he is willing to lend his name in support of our revolutionary bankroll management tool." He continues, "Ylon has been extremely important in formulating the foundation upon which BubbleProtection is based. His strategic analysis on how to effectively employ our product has helped define BubbleProtection as not just a money management tool but also as a weapon to be used to improve a player's overall results."
Online gaming group Chiligaming recently announced that they have partnered with Las Vegas hotel brand Golden Nugget to launch a free-play online poker site in hopes that US legislation will someday make it possible to legally play poker for money online. In a press release Golden Nugget says that the joint site will go live sometime in the next quarter "in anticipation of the legalization of online gaming in the United States."
The press release goes on to say, "Chiligaming's proprietary iGaming platform, which enables it to connect to any poker platform or gaming content provider, is a central feature of its US proposition and is designed to both facilitate swift entry into the market and maximize options for the Golden Nugget as the US regulatory and vendor landscape takes shape."
First opening its doors in 1946, o of the oldest land-based Vegas hotel casinos, the Golden Nugget features more than 2,300 guest rooms and is just one of the many Vegas gambling brands looking forward to bringing their betting services online once possible Nevada and even federal laws that will enable US players to bet online for real money are passed.
Tilman J. Ferttita, Golden Nugget chairman, says,  "We started an intensive process approximately nine months ago and looked at more than a dozen internet gaming companies and selected Chiligaming because they were experienced in online gaming in Europe and demonstrated incredible passion, talent and knowledge which our team found to far exceed their competitors." He continued, "We believe that online gaming is inevitable in the United States and that the Golden Nugget will be well positioned to compete when US laws allow for online gaming."
Let's hope he's right.